nhilcissistic asked: Hello Jilli! I read your blog entry about your skin care regimen and I just have a question about it. You see, I too have a very oily and acne-prone skin. You mentioned several cleansers and prescription creams that look interesting. So, to summarize, which combination do you think is the best?
5 tags
A Step-by-Step Guide to Dramatic Eyes
I did this tutorial for my friend and her Deltan sisters as a guide for doing their own make up in a photo shoot they did recently. My friend, Nina Pilapil, who is a budding photographer, took all the photos and edited them as well. Thanks Nina!
4 tags
9 tags
Smokey Grays and Beige Pinks
Today I did makeup for one of my titas (aunt) and my mom's longtime friend, Tita Marnie. She's known me since I was in my terrible twos. (I used to blame my mom's friends for pushing me even though I just tripped on my own! So when I say terrible, I mean terrible!) Tita Marnie's makeup is limited to concealer and her tools to an eyelash curler so I got excited when she...
17 tags
Metro Magazine January 2013: The Body Issue
I'm on the Lifestyle section of this year's first issue of Metro Magazine, The Body Issue! (Enchong Dee is on the cover!) It was my first time to get interviewed about my training, nutrition, and CrossFit so it was pretty nerve racking. This is supposed to be a before and after thing but I'm not sure if it's obvious here. Haha! This might be a more obvious one: Moral...
3 tags
Caronia Christmas | Squirrel Bling
One of the luxuries I enjoy is getting my nails done. If you ever see me wearing nail polish, that probably means I'm on vacation! Day to day hands on architecture work can be very brutal to the hands so normal polish stays in good condition only for a couple of days. I got these goodies from Caronia this Christmas. Thank you! Perfect timing, as the holidays are also pampering days! ...
Anonymous asked: Hi, I really love reading your posts and looking at your make up photos, but may I suggest a new tumblr theme? :) The current one can be a little confusing. Just a suggestion! Will still come back to read even if you don't change it, haha.
6 tags
Jergens: My Skin Savior
If you're an architecture student, you would know that every second is precious when deadlines start to loom. Sleepless nights and missed meals are givens. However, I also found out that during days before submission I'm not the only one who actually even thinks twice about taking just a quick shower. Those 5 to 7 minutes could still be used to draw that extra line or render that last...
7 tags
Metrowear Fantasy | Holiday Haute Couture | John...
We experience the most wonderful things at times when we least expect them. That was the case for me when I went to this year's Metrowear Fashion Gala. Metrowear: Fantasy featured four of the country's soon-to-be master couturiers — Joel Escober, Mark Bautista, Mak Tumang, and John Herrera. It is Metro's first holiday haute couture show with each of the designers showing...
11 tags
An Insurrecto's Best Body. Women's Health...
I'm in the pages of Women's Health Philippines' September 2012 issue as a representative of the BEST CrossFit Box in the Philippines, CrossFit Insurrecto! (Click on the pink link to visit the Insurrecto website!)   Grab yourself a copy so you can start working on YOUR best body too! Please let me take the opportunity to say that this isn't my best body yet! However, with...
6 tags
Friends, Family, and Villa del Conte Cioccolato...
Today I permitted myself to indulge a bit. We had lunch at Crisostomo, one of my favorite Filipino restaurants, with family friends, the Aldaneses. Pusit, Lechon Kawali, Manggang Hilaw Salad, Laing, Inihaw na Tuna Belly, Sinigang… Sigh, all my favorites! I made sure I got a little of everything. Well, maybe a bit more of that Lechon Kawali. It was a good kind of busog (feeling of being...
11 tags
Insurrecto Journal #2: There's a rumbly in my...
For me, the hardest part to get rid off is the belly. I've always been conscious about it but before doing CrossFit, I never really did anything about it. I hate doing ab specific exercises and suck at them. Before the last two months, I've never dieted in my whole 23 years of existence. I don't know, something just clicked inside me and I decided I wanted to push myself more to...
10 tags
Second Chances
I believe in second chances — in life in general, in love, and yes, even in makeup. These three makeup products share not only the top three seats in my face makeup favorites but also share the same story. You see, I all bought them on a whim — totally undecided, unconvinced, and just because I needed something of its kind. This is my favorite blush OF ALL TIME. I was shopping at...
7 tags
Oxygen PFW 2012 Holiday Collection
Oxygen's Holiday Collection exhibited the sleek silhouettes of the 50's and 60's Mod, all while keeping the whole feel of it fresh, captivating, and fashion forward. The tangerine and wine pieces, in my opinion, make a good recipe for glamming up the high streets. Not to mention they are my favorite pieces in the whole collection! Mixed in a bit of Navy and the look is...
12 tags
Insurrecto Journal: The WOD I almost DNFed
Key word: ALMOST. Shirt and Shorts from Champion USA. Shoes: New Balance Minimus 10 Life (Seriously the most comfortable shoes ever made) 2012-05-29 WOD (CrossFit Insurrecto) Know the difference between your front rack and pressing positions. Skill/Strength: Push Press 5x5 MetCon: L3 (Big Dawgs)  10 rounds for time: 10-9-8-…-2-1 Clean and jerks (95#/65#) 1-2-3-…-8-9-10 Box jumps...
12 tags
(Cross)Fitness Progress of an Insurrecto
A while back, I posted this photo of me to show the progress I've made since having started CrossFit in November of 2011. During the first few months I just couldn't stop telling everyone I know that they should try it and why. I've toned down a lot already. Don't get me wrong, I really am enthusiastic when I talk about how CrossFit is such a fun and effective workout. ...
23 tags
Berries | Brights | Brunettes
One of my biggest pet peeves is blue shadow gone wrong. A number of Filipinas and salon makeup "artists" seem to think that blue eye shadow goes well with the Pinay skin tone. When I say blue eye shadow, I mean the grayish blue ones. Sadly, it's just not flattering for morenas. Instead of accentuating beautiful bronze skin, it just makes it quite ashy and dull. The super puti...
9 tags
7 tags
Pink | Black | Blonde
For my cousin's wedding (see previous post), I wore a Chanel inspired dress designed by my sister, Jessi. I couldn't bring a smaller clutch or else all my stuff wouldn't fit. I think this Chanel purse went well with my dress anyway. This was my last hurrah as a blonde. I loved being blonde but as of now, it's just too difficult to maintain. I just had to convince my mom...
7 tags
FOREVER
My cousin and ninang, Ate Chin, is one of the beautiful people in the world. Even just one look at her, no one would be able to deny it. What makes her even more beautiful is the fact that she has the BIGGEST heart. She's probably the sweetest, most thoughtful, and most malambing person in our clan. She has so much love to give, not just to her family, but to those who actually need it the...
6 tags
Prom | Urban Decay | YSL
Prom is always exciting. Well, I've only been to one (yep, mine) but I get what the fuss is about. Picking your dress, choosing hair styles, trial makeup, asking your crush to prom, having an awesome night with your girlfriends — it's a girl thing. These days, the closest I get to being involved in proms is doing makeup.  This is my cousin, Alex. I've seen her grow...
7 tags
URBAN DECAY hits MANILA!
It's true! In my previous post, I mentioned that I had exciting news about Urban Decay. What could be more exciting than Filipino beauty addicts having the chance to own makeup from one of the most coveted beauty brands??? Check out available Urban Decay products for sale here: Kissed and Made Up Cosmetics! Urban Decay Book of Shadows IV Best combination of colors in all the Book of...
2 tags
Bargain Hunt 2012
BARGAIN HUNT is the newest fashion adventure to hit the streets of Manila, and YOU have the chance to be a part of it! Wild Events would like to invite you to be part of BARGAIN HUNT on the 6th-8th (Friday to Sunday) of July 2012. The event will be held at the New Megatent in Libis, Quezon City! FOR INQUIRIES, CONTACT DOMINIQUE THROUGH 0917-718-4606 or wildevents.ph@gmail.com!
14 tags
USA 2012 Haul: Makeup is my Drug
Hi, I'm Jilli. I'm a makeup addict. Now let's play Where's Waldo. Makeup style. So excited to share them with you! Even more excited to share some URBAN DECAY NEWS for all you makeup addicts, UD minions, and soon-to-be UD minions out there!
5 tags
CrossFit Insurrecto: The Revolutionary Box
No, I still don't have all the time in the world but THIS is absolutely blog-worthy. After almost three months of WOD Nation (Guerilla CrossFit), the best CrossFit certified coaches in the Philippines now have a home and all of us at WOD Nation now have our own playground — CrossFit Insurrecto. Their name couldn't be more fitting. They are game changers and are...
2 tags
Heavy Metals in Cosmetics! SHOCKING!
I almost never post anything that I don't write myself but this article had me too shocked that I just had to post it. Not only do I believe that it IS kind of my responsibility, I am also just shocked and panicking that I actually own and use some of the products on this list! Via Yahoo News: Heavy Metals Found in Many Cosmetics: Not Listed on Labels by Sarah B. Weir In light of...
5 tags
Me + Marilyn Monroe
A few days before my mom decided to be Twiggy for Valentine's, I decided I wanted to be Marilyn Monroe for my best friend's sister, Bettina's, black tie debut! (I wish I had decent pictures from the party because it was beautiful… ALMOST as breathtaking as the debutante!) Because I always have no one to take my photo, please excuse the camera. Haha! Might as well try...
7 tags
Mommy + Twiggy
I have the most adorable and prettiest mom! Would you believe she's turning FIFTY this year? :) I sure do hope I got those "forever young (looking)" genes from her! Mom decided to go as Twiggy to a 1960's themed Valentine's Party complete with the little dress! And yes, she did the Twiggy eyes on herself too. Many people don't know that my mom was my first...
3 tags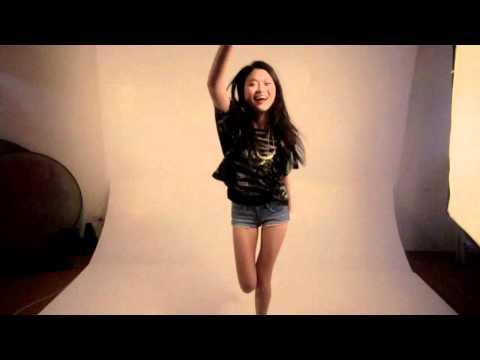 2 tags
5 tags
Yves Saint Laurent Rouge Volupte 19 Frivolous Pink
I like referring to this color as "Super Barbie Pink." It's not the most wearable color in the world but I don't think anyone can deny how pretty it is! I decided it would be perfect to give a review of it now while I'm Barbie/Blair Willows (according to my   extremely cute and clever niece, Tasha) blonde! It's a milky pink that leans more towards the cool...
4 tags
12 tags
MAC Holiday 2011: Ice Parade
Every year during the holidays, I make sure to drop by MAC stores. This is because it is only in MAC's Holiday Collection that they release palettes and brush sets. They always run out of stock so quickly so I never got to get a set for myself… until I received it as a present this year from mom and dad! (Thank youuu!) Make it Perfect Brush Kit/Essential What's the big...
3 tags
Shoe Addict Sale 2012: Comfort Zone
It's that time of the year again — the time of the year when women of all shoe sizes get the chance of spending their well-earned and well-saved moolah on imported shoes for a much cheaper price.   Many of my comfiest heels and platforms, I got from Shoe Addict. From what I remember, they sell brands like Nine West, Chinese Laundry, Mia, Jessica Simpson, Steve Madden, and a lot of...
16 tags
Hierbas de Ibiza
There's always something about the scent of a person. I don't know if it's true for everyone but I find that a person's scent is a huge part of his/her attractiveness. (Of course, who would be attracted to someone with body odor?) As for me, I almost never wear cologne. I'm very very — again, very — picky when it comes to scents. First of all, it's...
12 tags
Blonde Ambition
They say that once you start dyeing your hair, you're never really satisfied until you've tried the extreme. In my case and since having my hair colored since I was in first year of college — my FIRST first year of college in Ateneo, that is — I've just always decided to go lighter and lighter but the itch would never go away. It was quite a long and not-so-painful...
Anonymous asked: Hi what liquid foundation and makeup brushes (Aside from MAC) do you recommend? :)
7 tags
BERSHKA MANILA!
FINALLY (I'm starting to notice that I've been beginning my few-and-far-between blog posts with this) — I'm on Christmas break and what better way to celebrate than to go shopping?? I very rarely shop in the country as I like doing really big sprees when I'm abroad.The last time I went on a shopping spree was when Clean & Clear gave me and Sab PhP21,000 worth of...
9 tags
A Different Kind of Face (at CrossFitMNL)
Every time I go to CrossFit, I am DEATHLY AFRAID of what the WOD (Workout of the Day) would be. You never really know what's coming your way. Those who went earlier in the day could easily leak it, but you're never really ready for it — at least that's how it is for me since I'm just starting. If there's anything in life that scares me to my wit's end,...
9 tags
Soap & Glory SLIMWEAR
It came to a point where I stopped buying makeup already. Don't get me wrong, I still love them but I think I have enough… for now. Haha! Meanwhile, I've been shifting my attention to skincare products and other beauty solutions! I got this very interesting product from my last Singapore trip with my best friend Sab. Both of us are Soap & Glory fans — they have such...
11 tags
Brown Paper Packages tied up with String
Who doesn't love presents??? I received quite a lot these past couple of months (considering how my birthday is in August) and they are all just fabulous! Thank you guys! <3 The newest member of my Jessica Simpson shoe collection — Brook. Nude with 4 inch heel, 1.1 inch platform, and petite peep toe front. From my Ninang Alma! Vegas Volt — my first MAC lippie! (also from...
13 tags
The Beauty of Strength
I've done it. I finally got off my ass and decided to work on it… and the rest of my body. I enrolled myself in CrossfitMNL and I did so not just because of their damn good coaches (Hi A! Haha!) but also because I actually enjoy lifting weights and I knew they do a lot of those there. It might be a little difficult to believe but ever since getting weight lifting for my 1st ever PE in...
2 tags
Eleven Twelve
Did makeup for a fashion show for my college's start of the sem party, Eleven Twelve at the Liquid Pool Lounge, Manila Ocean Park. Thank you to Jeric Rustia for these photos! my handy-dandy UD NYC palette! I wanted the boys to have gold lips just for kicks. :)) Lighting wasn't so good so even though I painted they're eyes really wild and over the top, they...
Anonymous asked: I love your hair! By the way, when you have your hair colored, do you also have you eyebrows colored too???
Anonymous asked: In coloring your hair, do you also color your eyebrows the same color as your hair? :) I love your hair color by the way!
10 tags
Channeling Coco Chanel in Rouge Coco Gabrielle
I don't know if you've noticed but when I like something, I tend to hoard and get very similar looking stuff. Fine example — peach/coral lipstick. When I'm obsessed with a color, I don't notice that I buy everything (makeup and clothes) all in one color gradient until I start using them and realize they all look alike! I have to make a conscious effort to literally...
Anonymous asked: Why were you photographed by BJ Pascual? :)